UToledo to Observe Hispanic Heritage Month
---
The Office of Multicultural Student Success and the Latino Student Union will kick off Hispanic Heritage Month this week, focusing on virtual events that celebrate Hispanic culture and heritage. It's part of a University-wide effort to highlight global culture.
"Although most of our events will be virtual, we look forward to connecting with people to learn and celebrate the different cultures highlighted through history and heritage months," said Aleiah Jones, manager of the Office of Multicultural Student Success. "We kick things off with Hispanic Heritage Month and will be highlighting virtual events across the country to provide more opportunity for those who want to engage."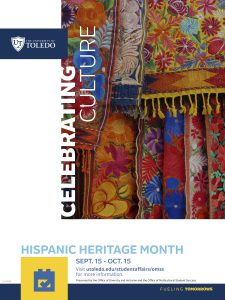 The signature event will be the Latino, Latina, Hispanic or Latinx? The Continuing Search for Self-Identity forum. Dr. Jorge Chinea, director of the Center for Latino/a & Latino American Studies at Wayne State University, will speak on the history of the term Latinx at 1 p.m. Friday, Oct. 9 during the forum available via WebEx.
This year's Hispanic Heritage Month festivities also include the annual "Viva Mexico" celebration. The event features music and dance performances, led this year by actor and director Roen Salinas. Salinas founded the AZTLAN Dance Company in Austin, Texas and works to promote greater cultural understanding through dance and other art. The livestream runs from 6 to 9 p.m. Wednesday, Sept. 16 and will be available on YouTube, Facebook and Twitter free of charge.
"And of course, there will be many more events happening throughout the month," said Jones. "We invite anyone interested in celebrating Hispanic Heritage Month to follow us on Instagram as we recognize Hispanic/Latino individuals who have made significant contributions to our society and share news about other things happening this month."
Hispanic Heritage Month events also include:
• Thursday, Sept. 17 — 31st Annual Diamante Awards, 6-7:30 p.m., Zoom. Celebrate individuals and organizations for their achievements and service to Latinos in northwest Ohio. Registration is free via Eventbrite, but a $10 donation is recommended.
• Thursday, Sept. 24 — Netflix Watch Party: Mucho Mucho Amor: The Legend of Walter Mercado, 5:30 p.m. Join OMSS program coordinator Aleiah Jones in watching this documentary about the life and career of Walter Mercado, one of the most important astrologists in Latin America and the world.
For additional information, and to RSVP for the online events, visit the Office of Multicultural Student Success website.